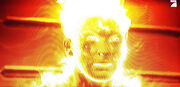 This is the fourth Fantastic Four film by Ladybug68.
Reed Richards discovers a long lost society, and brings the Fantastic Four to see if there's any life there. They find a group called "The Inhumans", and Johnny falls for one of them named Crystal. Reed sees a Bull-Dog with cosmic powers, named Lockjaw, which Medusa says is "the ultimate weapon." But, one of The Inhumans is a traitor, working with the cosmic entinies, Maximus the Mad and Molecule Man, in using Lockjaw to destroy Earth!
Christain Bale - Mr. Fantastic
Ryan Kwanten - Human Torch
Kristen Bell - Invisible Woman
Derek Mears - The Thing
Deborah Ann Woll - Medusa
Jeffrey Dean Morgan - Gorgan
Luke Evans - Black Bolt
Amber Heard - Crystal
Miguel Silvestre - Karnak
Luke Goss - Triton
Billy Crudup - Maximus The Mad
Michael Emerson - Molecule Man
Ad blocker interference detected!
Wikia is a free-to-use site that makes money from advertising. We have a modified experience for viewers using ad blockers

Wikia is not accessible if you've made further modifications. Remove the custom ad blocker rule(s) and the page will load as expected.