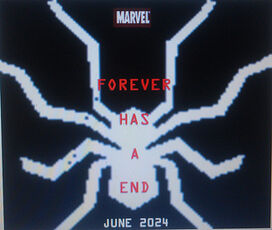 Forever Spider-Man III is a 2024 film directed by Matthew Vaughn and written by Ehren Kruger, Jane Goldman, and Matthew Vaughn. It is produced by Marvel Studios and developed by Walt Disney Pictures. It is the sequel to Forever Spider-Man and Forever Spider-Man II. It is the third and final entry of the Forever Spider-Man series.
Alex Pettyfer, Kellan Lutz, Michael Fassbender, Rachel Weisz, Mary Elizabeth Winstead, Jessica Chastain, and Jon Hamm all star. In the film, Benji forms his own legend, but encounters his most dangerous villain. The film will be out on June 22, 2024 in 2D, 3D, and IMAX.
Benji has survived a tough battle with Norman Osborne's clone, Namron and witnessed his father Peter sacrificed himself. Now Benji is prepared to shape his own legacy. However, Benji might need to don Spider-Man one last time when when Neo Manhattan comes under attack from a hidden and dangerous enemy. Benji faces his most daunted task. Can he risk being Spider-Man one more time...to honor his father's legacy...and keep his own before others who he care about die. The final chapter of the Forever Spider-Man saga is coming.
Alex Pettyfer as Benjamin "Benji" Parker/Neo Spider-Man
Kellan Lutz as Carter Brock/Neo Venom
Michael Fassbender as Charlie Strauss
Rachel Weisz as Astrid Dawson
Mary Elizabeth Winstead as May Parker
Jessica Chastain as Mary Jane Parker
Shay Mitchell as Tiana Hardy
Sinqua Walls as Eric Robertson
Clark Duke as Dash Hampton
Idris Elba as Bonner
Hugh Laurie as John Jameson
Jon Hamm as Peter Parker (who died in the last film, will make a flashback cameo)
More to come
Production
Edit
TBA
Henry Jackman, Vaughn's frequent composer, reprises his role.
Soundtrack: Forever Spider-Man III: The AlbumEdit
"Blind" by Imagine Dragons
TBA
TBA
Ad blocker interference detected!
Wikia is a free-to-use site that makes money from advertising. We have a modified experience for viewers using ad blockers

Wikia is not accessible if you've made further modifications. Remove the custom ad blocker rule(s) and the page will load as expected.