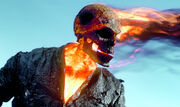 Do not edit without JokerMan999's permission. Ghost Rider: Ultimate Avenger is a 2017 movie directed by Christopher Nolan and written by Joss Whedon.
Ryan Gosling as Johnny Blaze/ Ghost Rider
Anne Hathaway as Roxanne Simpson
Dwayne Johnson voicing Mesphito
Chris Cooper as Norman Osborn
Brad Pitt as Danny ketch
CGI Zarathos
CGI spirit of vengeance of Danny ketch
It starts with Johnny talking with Mesphito but as the camera pans out we see it is just a flash back and Johnny is standing out on the highway next to his bike, a Ducati 1098. He picks up his phone from the seat of his bike and he is watching Roxanne Report on Oscorp. He clambers onto his Motorcycle and rides off and we see a streak of fire erupt from the bike. We see him speed down the Oscorp building like a flash of lightning. He launches off the building and we see Norman Osborn kill someone. Then, Ghost rider bursts through the window and uses his penance stare on Norman. He then gets on his bike and speeds away. In the morning we get to see him looking at an old poster of his show. It has a picture of Roxanne paper-clipped to it. He is in an old warehouse where there is a chain on the wall. Suddenly the F.B.I burst in and arrest him. On the way, they talk about a man who called himself blade and another named Punisher. Then the driver dies. Mesphito appears and Johnny fights him. Roxanne is recording it in a helicopter and Mesphito tries to kill her so Johnny lets the demon take control to kill Mesphito. He succeeds but a F.B.I agent is forced to kill him when he endangers Roxanne. 2 years later the same F.B.I agent finds Johnny's bike in a scrap yard when his sister dies. He touches it and is revealed to be Danny Ketch and Johnny's brother. He becomes the new Ghost rider. In the end credit scene John awakens and looks for ketch fearing that Zarathos is free. However Zarathos is inside Blaze and another Spirit of Vengeance known a Morpheus (a half angel half demon ) is in Dan. --JokerMan999 (talk) 15:28, May 12, 2014 (UTC)
Ad blocker interference detected!
Wikia is a free-to-use site that makes money from advertising. We have a modified experience for viewers using ad blockers

Wikia is not accessible if you've made further modifications. Remove the custom ad blocker rule(s) and the page will load as expected.