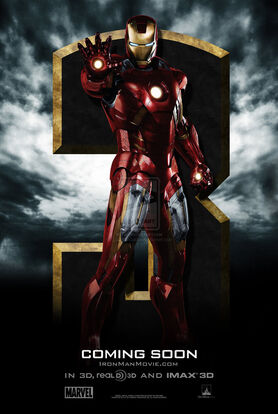 Iron Man 3
is an superhero film released in 2013. It is the eight installment in the
Marvel Cinematic Universe
and the third, and presumably, final film to focus on Iron Man alone. It was directed by Shane Black.
The movie opens up in a darkened laboratory. Two men are seen speaking with each other, with one man (referred to by the other as "Mr. Savin") saying that "all the pieces are in place." The other man says he is sending "Taggert" out. The man called Savin leaves. The other man is revealed as The Mandarin.
Meanwhile, in New York City, Tony Stark, as Iron Man, is rebuilding Stark Tower, and has been, for the most part, successful in doing so.
Stan Lee will have a cameo in the film, and it has been confirmed that Chris Evans will have a cameo as Captain America. Dominic Cooper will also have a cameo as Howard Stark in a flashback.
Ad blocker interference detected!
Wikia is a free-to-use site that makes money from advertising. We have a modified experience for viewers using ad blockers

Wikia is not accessible if you've made further modifications. Remove the custom ad blocker rule(s) and the page will load as expected.