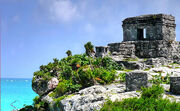 This is the 3rd X-Men movie.
Cable, Jean and Scott's unborn son from the future, comes to warn about the rise of an ancient mutant with incredible power. Meanwhile, Angel is transformed into Archangel!
Kevin Spacey - Professor X
Emma Roberts - Shadowcat
Chris Pine - Iceman
Michael C. Hall - Cyclops
Emily Blunt - Jean Grey
Steve Bacic - Wolverine
Adam Baldwin - Cable
Nina Dorev - Rogue
Maggie Q - Psylocke
Iwan Rheon - Nightcrawler
Scott Porter - Angel / Archangel
Jordana Brewster - Domino
Michael Jai White - Bishop
Jared Padelecki - Colossus
Zoe Saldana - Storm
Key Chandler - Beast
Josh Holloway - Gambit
Brenda Song - Jubilee
Armie Hammer - Banshee
Faran Tahir - Apocalypse
Mike Vogel - Quicksilver
Anne Hathaway - Scarlet Whitch
Ad blocker interference detected!
Wikia is a free-to-use site that makes money from advertising. We have a modified experience for viewers using ad blockers

Wikia is not accessible if you've made further modifications. Remove the custom ad blocker rule(s) and the page will load as expected.